Gilnahirk Tyres and Exhausts
A family run business in Belfast, Gilnahirk Tyres and Exhausts offers a professional service at competitive prices
We aim to provide an all round quality service which ensures you can keep your car in the best shape possible without having to break your budget!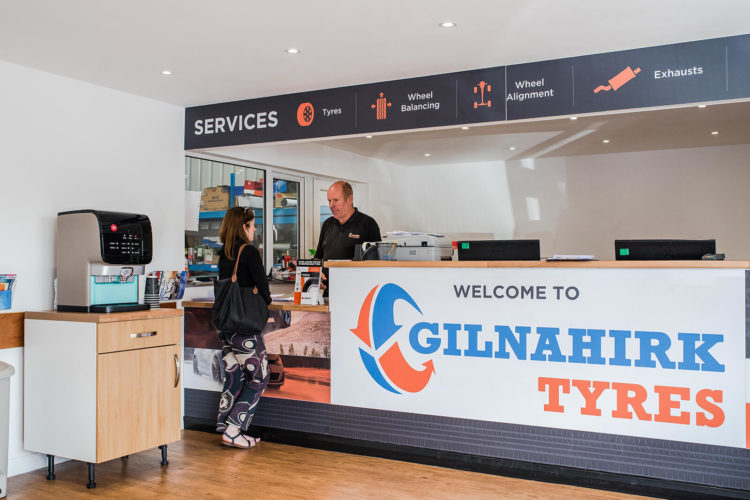 About Us
Quality service, at a cheap price
Gilnahirk Tyres and Exhausts are open six days of the week and are conveniently located in Belfast. With extensive experience and in-depth knowledge of vehicle repair, Gilnahirk Tyres and Exhausts have tyres and exhausts at very low prices. In all, Gilnahirk Tyres and Exhausts have 25 years' experience which guarantees that a quality service is provided at competitive prices.
"In today's hectic world, we sometimes find the quality of service goes when the price is right [which is] not the case with us. We aim to provide a quality service, at a cheap price, as and when our customers need us."

William Chambers – The owner of Gilnahirk Tyres and Exhausts
Testimonials
I've just found my new favourite tyre & exhaust shop. They mended (rather than replacing) my exhaust and F.O.C. Not too many places seem to do either of those things these days. No padded sofas or espresso machines either - a garage how it SHOULD be - I'll be back!
Mark R
Recently used this garage twice in the last few months and found them to be very good. Very quick, compettive prices and service is good too
Trevor L
This is the only place I would go for tyres and exhausts. I took my last car to William after paying another garage 3 times to correct my wheel alignment. On inspection he told me the nuts on the track rod ends were siezed solid (car was very old) and it didn't look like they'd…
Steven K
I am a female driver and know nothing about cars, I went to Gilnahirk tyres and exhausts because someone at work told me they wouldnt get their arm in! William was really helpful, a knocking noise I thought was going to cost me a fortune ended up a small job! I would recommend them highly,…
Wendy T
Gilnahirk Tyres really went the extra mile to help us out. Stuck at a roadside with one blown out tyre, they were able to send someone out, fit a tyre to get home and give us two new tyres for the next day. They couldn't have been more helpful! The tyres were also a very…
Emma T
A 'Drop in' service
All makes and models can be fixed by Gilnahirk Tyres and Exhausts.
A 'Drop in' service is available at their convenient address in Belfast. All makes and models can be fixed by Gilnahirk Tyres and Exhausts. You can even wait in our comfortable seating area whilst the work is being carried out. As Gilnahirk Tyres and Exhausts are only three miles away from Belfast city centre, you can even leave your vehicle with us. When you return to Gilnahirk Tyres and Exhausts, your vehicle will be fixed and safe to drive.
A 24 hour call out Tyre repair service is also available to our clients. Keep our number with you at all times, so when you need us, we are there! Call us for a cheap, yet quality service.